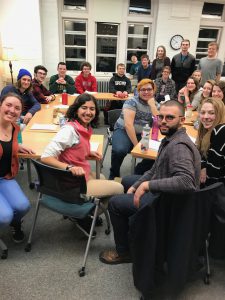 The Geography Club would like to thank those who recently donated money intended to enhance the undergraduate experience and to support activities beyond the classroom.
Your generous support will help us accomplish many things, including attending and presenting at the Midwest Undergraduate Geography Symposium and hosting Coffee Hour to help connect with faculty, staff, and graduate students in the department. Opportunities to present independent research and connect with geographers in the area are important components of improving the undergraduate experience, and these could not be achieved without your support!
To leverage the money donated to the end-of-year campaign, the Geography Club recently raised almost $300 at the Chipotle Night fundraiser.
Once again, thank you so much to all supporters of the Geography Club! Your support helps to ensure a thriving undergraduate community in the UW-Madison Geography Department.