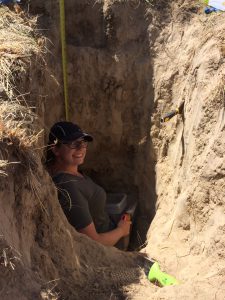 Laura Szymanski, Physical Geography Ph.D. student in Erika Marin-Spiotta's Biogeography and Biogeochemistry lab, has accepted a year-long position in Washington DC as the Geological Society of America's (GSA) Science Policy Fellow. GSA is an international scientific society that advances geoscience research and provides vital services to the geoscience society.
As the Science Policy Fellow, Laura will contribute to GSA's mission by attending congressional hearings and hill briefings, tracking geoscience related legislation as it progresses through Congress, leading science policy events, and writing and disseminating updates and findings to the geoscience community.
As a Ph.D. student Laura studies the potential of carbon in buried soils to contribute to atmospheric carbon dioxide with land disturbance and changes in climate. Her research will help determine how sensitive the carbon in deep, buried soils are to two potential climate change scenarios. Combining her expertise in geography and earth system processes and skills honed and acquired as the GSA Science Policy Fellow Laura hopes to work as a science policy analyst or science policy advisor for the federal government or scientific organizations.