Resting in the hills on the southern coast of Sicily sits the city of Agrigento. Because of its strategic location on the Mediterranean there was a lot of interest in the trading port, and control shifted many times since the founding by Greek colonists in 580 B.C.E. Today Agrigento is a UNESCO World Heritage Site and one of the largest archaeological sites in the world, containing some of the largest, best-preserved ancient Greek temples in the Doric style. In late June, you could also find two UW Geography Alumni exploring the Parco Archeologico e Paesaggistico della Valle dei Templi on a mission to view a portion of the park from a cartographer's perspective.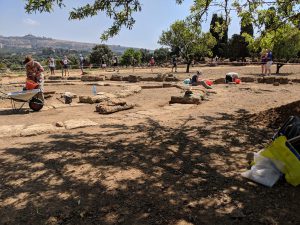 Tanya Buckingham ('01) and Bill Buckingham (MS '06) were invited by Professor William Aylward, an archaeologist in the Department of Classics and Ancient Near Eastern Studies to define questions about wayfinding and the application of cartographic technology to the archaeology site. They were part of the UW Team, including two current undergraduate students in the College of L&S, Jackson "Jack" White, a History major, and Megan Bernards, an Anthropology major, and alumna Dr. Sarah Rous (UW-Madison '07 Classics and History). The group worked with archaeologists from the University of Bordeaux-Montaigne under the direction of Professor Laurence Cavalier.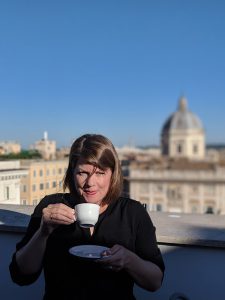 Tanya is the Creative Director of the University of Wisconsin-Madison Cartography Lab. She returned to UW-Madison to train students after a spending half of her career in the private industry. Buckingham spoke of the trip as a great learning experience, and she hopes just the beginning of this work, "Unique opportunities like this have the potential to define a career for students. I'm always searching for new opportunities for students." The research is outside of Bill's staff position at the Applied Population Lab, so he took vacation to attend. He joked, "It's the hardest I've ever worked on vacation!" He also shared that it is the most he's ever learned on vacation. Bill plans to stay involved with the project, "I'm thankful for the experience and will continue to stay connected to the project from a technical and advisory perspective."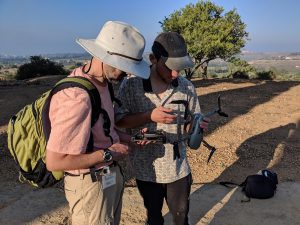 The two spatial experts spent the week collecting data, and the research and design will continue throughout the year. They hope to find funding to send a student back for several weeks next summer. Student, Emily Pettit, the GIS Professional Programs Cartography Lab Fellow for Fall 2018 will be digging into the data, and looking at two questions, how can cartographers help visitors to the park understand their connection to the humans that once built the temples here, and how can the fields of cartography and archaeology continue to work together.
The Buckinghams met working at Steenbock Library while both in their undergraduate years. Each decided to pursue cartography and GIS degrees in very different ways, and found their own niche in the field.