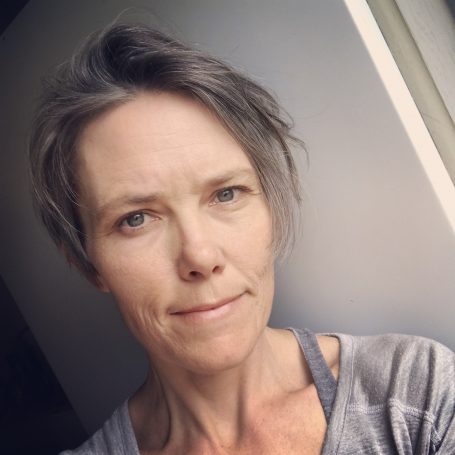 For our first faculty profile, we would like to introduce Associate Professor Jenna Loyd. Joining UW-Madison in 2017 as a feminist geographer focusing on racism and state violence, Professor Loyd has taught many courses in the Geography department including: Feminist Political Geography, Feminist Research Methods, International Migration, Health, and Human Rights and Introduction to The City. We hope that this piece allows you to learn a little bit more about the wonderful people that make up the Geography Department faculty and staff.
Can you describe your research and the work that you do within the Geography discipline?
I'm a human geographer with interests in health inequities and in migration policy. My dissertation, which became Health Rights Are Civil Rights, looked at how major social movements of the 1960s and 1970s organized for health in Los Angeles. War and war-making were a common concern for the Black freedom and women's movements, so in addition to organizing for respectful health care, these movements also organized against war and for shifting war-spending into human needs like clean air, water, and housing. My work on US migration policy began amidst historic immigrant rights mobilizations of 2006, and since then I have studied the relationships between migration and criminal legal policy and between militarization and migration policies. Boats, Borders, and Bases, written with Alison Mountz, tells the history of the construction of the US detention system as a part of US migration deterrence policy. More recently, I've brought these two interests in health and migration together with a project with Patricia Ehrkamp and Anna Secor on the geopolitics of trauma. We're interested in tracing how trauma figures into the practices of refugee resettlement. Across these projects, the connections between state violence and issues of systemic racism and sexism have been a constant thread.
How did you become interested in Geography? What specifically drew you to the discipline?
As an undergraduate, I was majoring in Anthropology and was looking for a class to take with a buddy of mine. We stumbled into an Urban Geography class, where I was introduced to already classics like Drake and Cayton's The Black Metropolis and now classics like Mike Davis' City of Quartz. I was immediately drawn to thinking about human societies within space. Phenomena like culture or power weren't just floating up there or nowhere, but actually took place somewhere. The idea that those somewheres also shape culture, power, and everyday life made the discipline really appealing. I was also really drawn to courses in the political ecology tradition, which likewise explored the power dynamics shaping land, food, nature, and human exploitation.
3. What is something that an undergraduate student has taught you?
There have been so many moments when undergraduates have taught me! A lot of those moments come from students sharing their interpretations of texts we're reading. One was a really savvy reader of China Mieville's The City and the City whose interpretations of the book helped me understand it better. Others have been students who have translated ideas in texts into artistic forms. These examples share the joy of encountering students' creative or unexpected responses to ideas.
4. If you could sit in on any course/seminar in the Geography Department, what would you be most interested in attending and why?
This is a trick question! Colleagues across the department teach courses I'd love to take. I've long been fascinated by stream morphology, but never took a physical geography course that would help me understand the dynamics. I always have in the back of my mind another cartography course. And before I start listing the whole catalog, there is so much to learn from my colleagues about major issues in climate change, Indigenous geographies, and Latinx feminisms. Happily, our newest colleagues Dr. Almita Miranda and Dr. Jen Rose Smith are now here to teach us all.
5. What is your favorite room/other space in Science Hall?
My favorite space in Science Hall doesn't exist anymore, but the stories I've heard about the chute outside of the building are bonkers, and explain why it's no longer here.
Thank you again to Professor Jenna Loyd for taking the time to answer the questions and allow us to get an insight into the Geography Department!