The following piece was put together by Kallista Bley, Kela Caldwell, Jenna Loyd, and Rob Roth.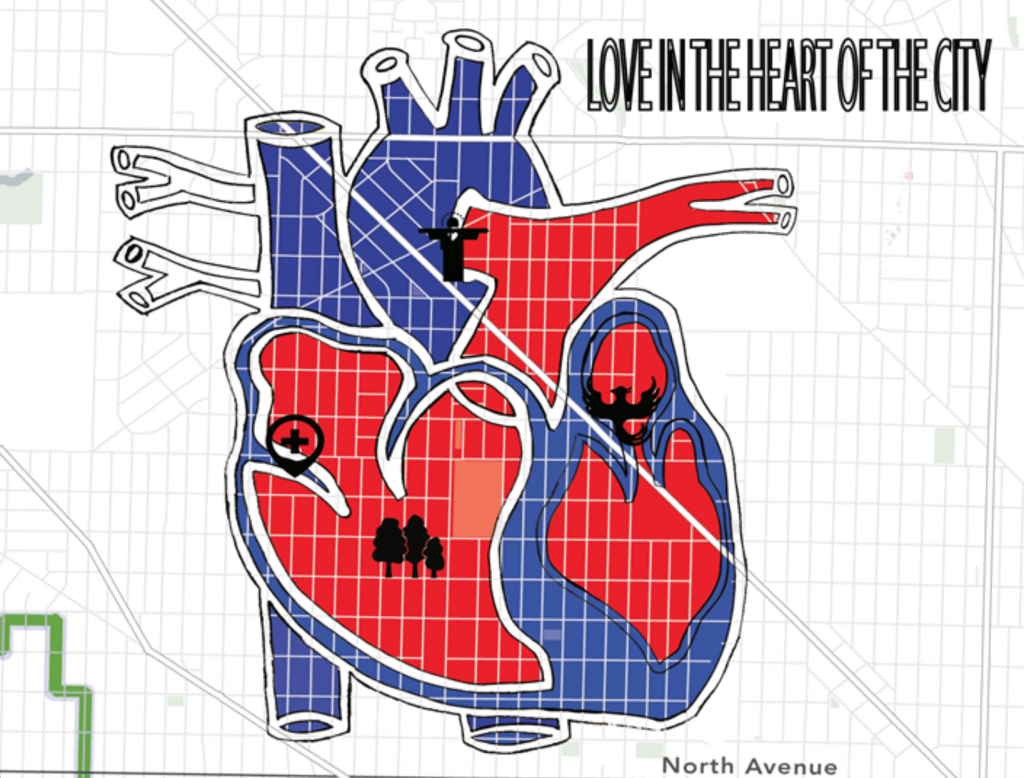 The Design Challenge is a yearly event run by the UW Cartography Lab, which collaborates with a community partner or Geography Department faculty on geographic issues from across the discipline. Undergraduate and graduate students in Geography, Cartography, GIS, and beyond are invited to participate in a daylong effort to create maps and other geographic data visualizations for each year's project. This event has become one that students and the whole department excitedly await given the creative challenge and fun.
As this year's Design Challenge gets under way, we thought we would share what we learned in 2019. That year, we extended the daylong format, such that the Design Challenge involved several gatherings and collaborations in advance of and following the design day itself. The 2019 event teamed with UW-Madison Geography Professor Jenna Loyd, the Urban Underground of Milwaukee, WI, and the Transforming Justice (TJ) project, a collaboration that began in 2014 at UW–Milwaukee to document and critically explore histories, understandings, and experiences of policing in Milwaukee. With attention towards feminist and abolitionist praxis, our goals for the Design Challenge were to create and imagine new ways of visualizing (in)justice and place in Milwaukee using principles of design justice and data feminism to foreground local knowledges and alternative world-building.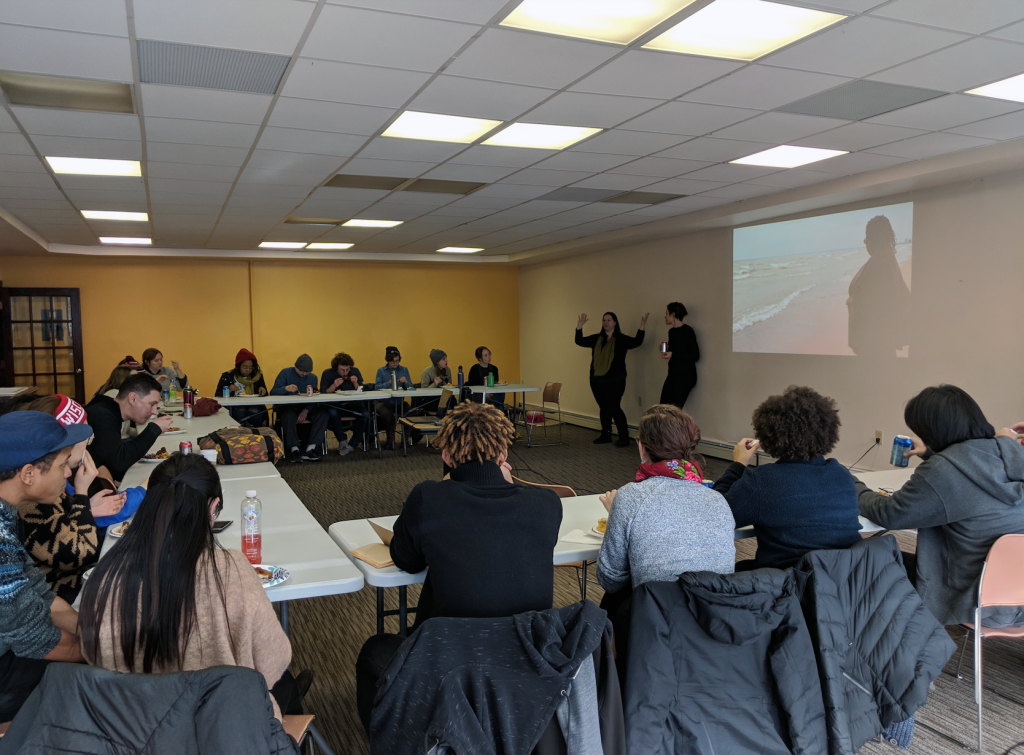 The 2019 Design Challenge was co-organized by UW–Madison Geography graduate students Kallista Bley, Kela Caldwell, and Meghan Kelly and attended by 19 students, including UW–Madison undergraduate and graduate students from all four sub-areas in the department, three members of the Milwaukee Youth Video Collective, and five faculty/staff from UW–Madison and UW–Milwaukee. Embracing design as both relational and situated, we took fifteen students on a field trip to Milwaukee where we met our UWM and community partners and learned about some of the histories of segregation and civil rights activism in the city. The organizing group also hosted a lecture from renowned UCLA historian Kelly Lytle Hernández about her Million Dollar Hoods project, which uses GIS and creative visualizations to advocate for changes in policing practices in Los Angeles. On the design day itself and following a series of introductions and a community-building activity, collaborators formed seven teams to develop their own maps and alternative visualizations of justice in Milwaukee. Over pizza at the end of the day, each team presented the results of their work.
Reflections continued through our collective writing project, "A Design Challenge for Transforming Justice," which has just been published in the journal GeoHumanities. The paper offers a glimpse into the activities leading up to and including the design day, the longer-term collaboration out of which it grew, and reflections from the Design Challenge process. We invited four groups to discuss their design processes. Each group selected their visuals for the article and wrote narratives in their own voices and emotional tenor. Collectively, we found that the success of the day owed to participants and organizers actively: (1) embracing pluralism and enabling multiple design processes, (2) centering authorship and ownership, (3) exposing and contesting dominant narratives, (4) exploring dynamic and relational visual representations, and (5) incorporating tangible materials for inclusive design.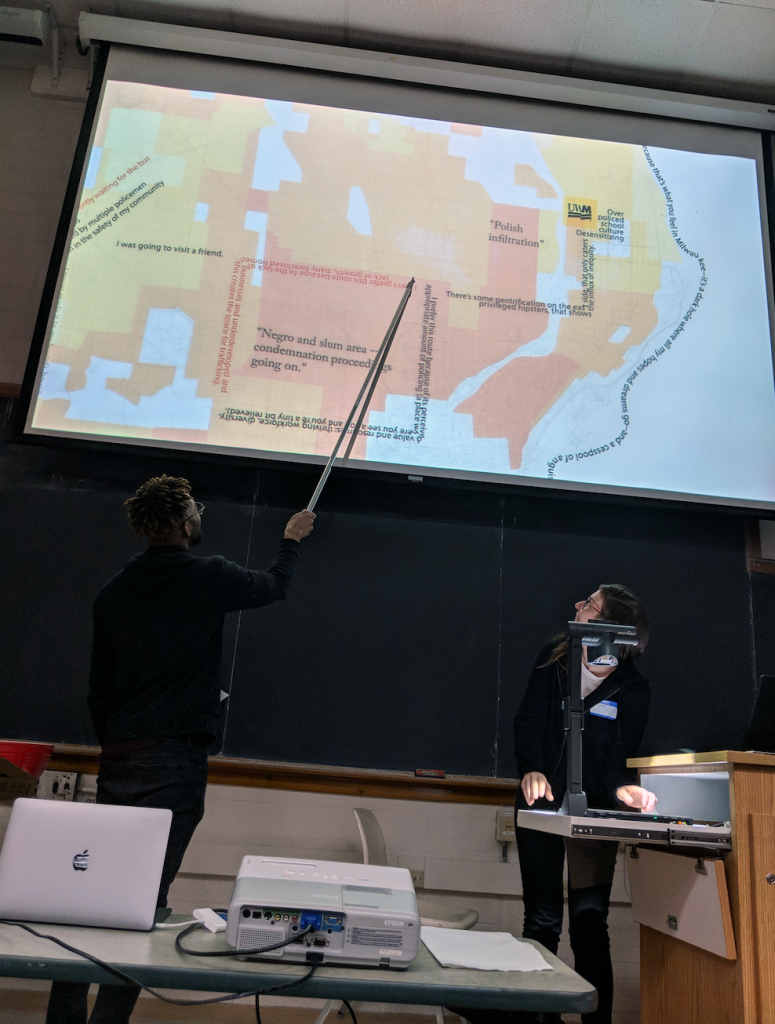 "A Design Challenge for Transforming Justice" serves as an example of some of the community-engaged work taking place in the Geography Department in collaboration with partners at UW–Milwaukee and Milwaukee-based community organizations. Furthermore, as Transforming Justice takes other forms, it also speaks to the unique practices that can emerge from organizing and collaboration informed by feminist and abolitionist principles. If you would like to read the article, please feel free to email Professor Jenna Loyd (jmloyd@wisc.edu) for a PDF.
Acknowledgments: We wish to thank Yui Hashimoto, Lorraine Halinka Malcoe, Robert Smith, and Will Tchakirides for their work to establish the Transforming Justice Collective. We also wish to thank Dr. Kelly Lytle Hernández, Sean Kafer, and Daniel Huffman for their contributions to the 2019 Design Challenge. Activities associated with the 2019 Design Challenge were supported by the UW–Madison Afro-American Studies Department, the UW–Madison Center for Humanities, the UW–Madison Chican@ and Latin@ Studies Department, the UW–Madison History Department, the UW–Madison & UW–Milwaukee Departments of Geography, the UW–Madison Havens Center, the UW–Madison Holtz Center, the University of Wisconsin Morgridge Center, the University of Wisconsin Cartography Lab, doc|UWM, Peck School of the Arts Community Engagement Initiative, and Urban Underground.

Citation: Kallista Bley, Kela Caldwell, Meghan Kelly, Jenna Loyd, Robert E. Roth, Tanya M. Andersen, Anne Bonds, Jenny Plevin, Darrin Madison, Christofer Spencer, Trevonna Sims, Chris Archuleta, Zach Ellner, Taylor McDowell, Chelsea Nestel, Elsa Noterman, Nick Smith, Stepha Velednitsky, Nick Underwood, Robert Darlington, Yuqi Gao, Adrian George, Laura Miller, Tim Prestby & Jamp Vongkusolkit (2021) "A Design Challenge for Transforming Justice," GeoHumanities, DOI: 10.1080/2373566X.2021.1986100