This month's feature story highlights the specialized units housed within Science Hall that help make Geography one of the most interesting and resourceful departments on campus. Read on to learn more about the units and their important roles on the UW campus and beyond.
The Wisconsin State Cartographer's Office (SCO)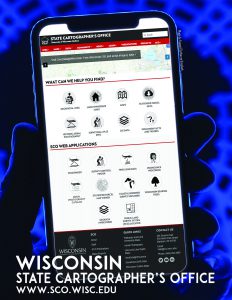 The Wisconsin State Cartographer is a special program position at UW-Madison defined in state statute. The State Cartographer's Office (SCO) was created in 1974 and is housed within the Geography Department. The mission of the SCO is to foster the development of Wisconsin's geospatial community via the creation and exchange of geospatial data, services and information. We seek to enhance the efforts of community members to leverage geospatial technology in support of their goals, through such activities as information and data sharing, data development, online apps, education and training, and coordination and planning. While funding for our core operations comes from UW-Madison, we also manage a range of partnerships and externally funded projects with various agencies across the state. We currently have eight staff and four student assistants. For more information about what we do please visit our website (www.sco.wisc.edu) or check out our latest annual report (www.sco.wisc.edu/pubs/state-cartographers-office-annual-report-2020-21).
The Arthur H. Robinson Map Library (RML)
The Robinson Map Library is a large cartographic research collection focused on the curation of and access to maps, aerial photos, and digital geospatial data. It was a busy fall 2021 semester in the library and we're looking forward to serving even more library users in the spring of 2022! During the pandemic we saw a reduction in physical visits from library users from both general public and academic sectors, but we've never been busier when it comes to answering remote reference questions via email and handling requests for digital data and materials. One thing we've spent a lot of time focusing on over the last two years is finding the best ways to share our valuable research materials with as many users as possible. Fortunately, we have a large format scanner and other and other useful equipment that allow us to digitize maps and aerial photos and send high-resolution images via email. And of course, all of the digital geospatial data in our archive (and for the state of Wisconsin) is accessible online via the GeoData@Wisconsin (https://geodata.wisc.edu/) geoportal.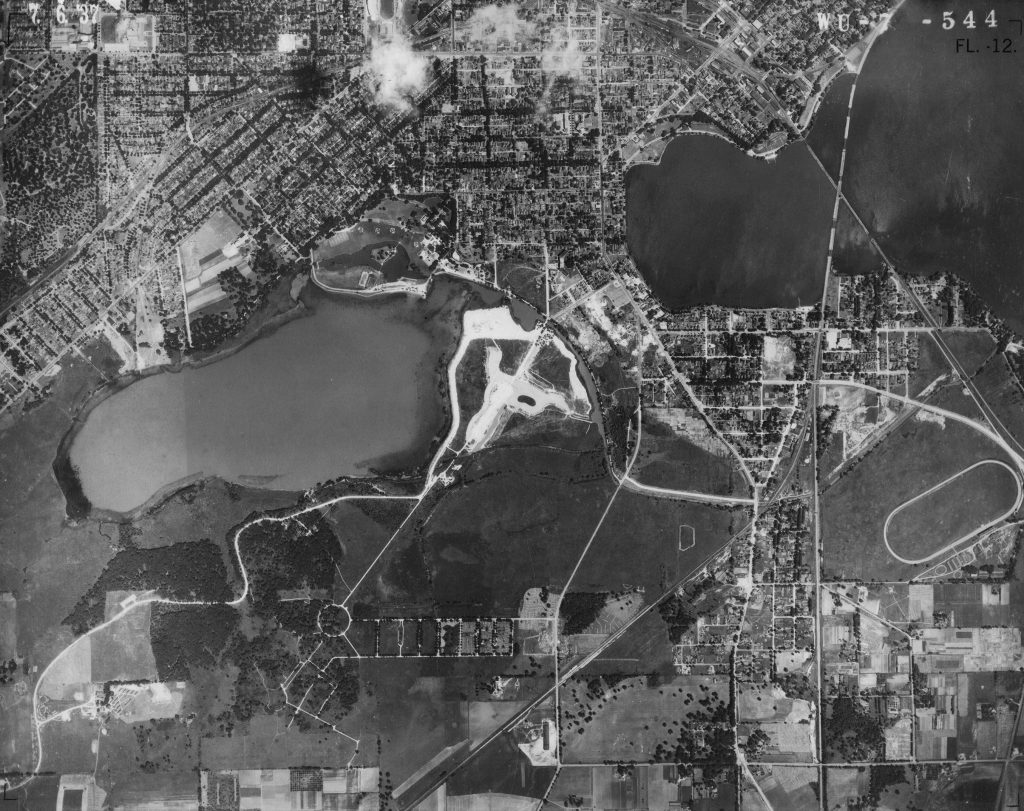 We have an amazing group of students working in the library who help make sure our users are able to discover materials online via cataloging and metadata work. Students are also working hard to ensure library materials are digitized and provided to users within a day or two of receiving requests. The dedicated students working in the Map Library this spring are: Jessica Bedtka, Kuang-Cheng Cheng, Sydney Davison, Rachel Ren, and Jack Sagers.
To request scans of historic aerial photos or find out more about access to library materials, please visit our website: https://geography.wisc.edu/maplibrary/
UW Cartography Lab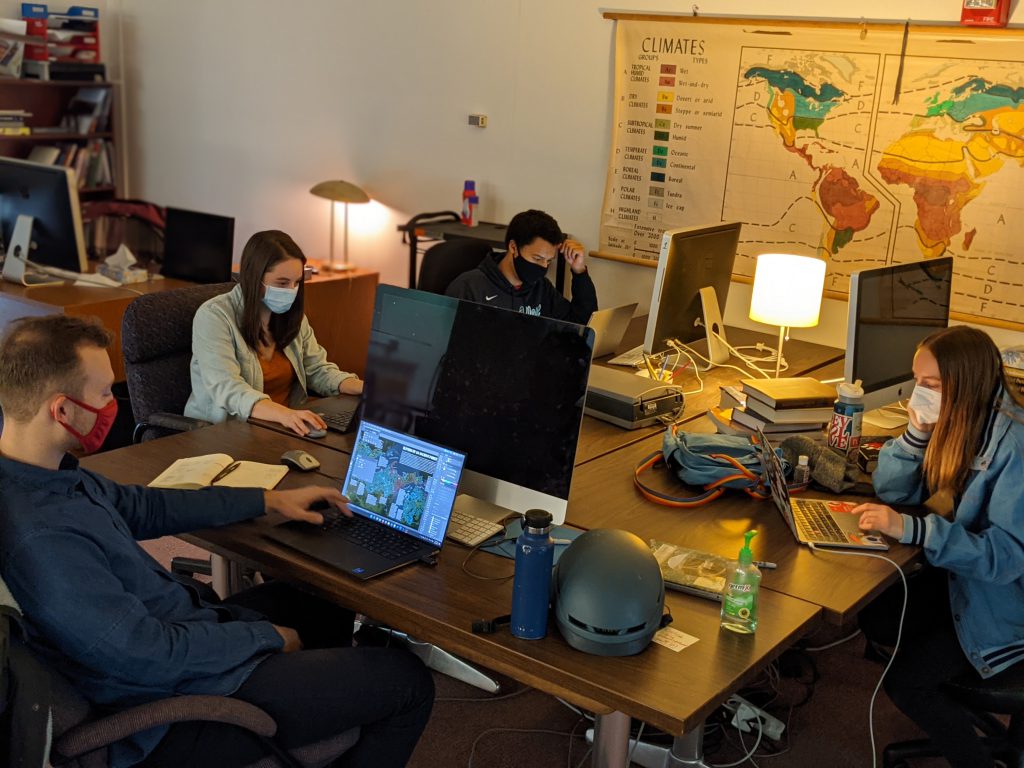 Spring of 2022 has come in like a lion in the Cart Lab! Students have returned and the little space on the mezzanine of the third floor is humming with activity again (displacing a few critters that had taken up residence during the pandemic). While we had shifted to remote work, making sure students had the appropriate technology in their homes, and hosting our events virtually, or when the weather was nice awkwardly in hybrid fashion, many of our clients were also navigating their own office transitions resulting in a smaller, but more demanding workload. We still managed to complete several projects with clients from around the world. One of the big celebrations of last year, was the completion of the Mapping for a sustainable world, a partnership with the United Nations and International Cartographic Association. Several students worked on various aspects of the project for which Faculty Director Dr. Rob Roth is an author and Creative Director Tanya Andersen led the layout and design.
The Cartography Lab, at its core, is a space where people come together for community, and growth; being apart from one another was challenging for all of us. There is a glee in the air as our spontaneous interactions and peer-to-peer learning are returning to their normal levels. We are busier than ever, with a full student staff, each cartographer balancing multiple tasks with topics that range from important work on-the-ground in Nigeria, to exploring Latinx population change in Chicago, to flooding predictions in Green Bay, to trade in South America, teaching classes, and so much more.

To close 2021, we celebrated maps of former and current cart lab students at a gallery exhibit at the Overture Center that ran for several months. The exhibit, We Are Here: Local Mapmakers Explore the World That Connects Us, made the case for the importance of maps encouraging empathy and the traditions of cartography here in Madison. Many of these pieces now hang throughout the mezzanine of Science Hall and we welcome you to stop by and see them. We hosted our Design Challenge, in person(!) this year and the energy and comradery of the event was palpable.
History of Cartography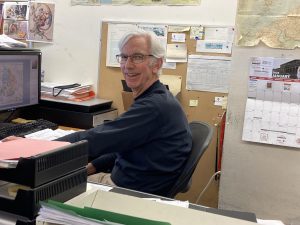 UW Geography has been home to The History of Cartography Project since its inception in 1981. The six-volume History of Cartography covers prehistory to the twentieth century and is the foundational publication in the field. The series views maps as cultural artifacts, and considers everything from astrolabes to Zimbabwe rock art.
Tucked away on Science Hall's fourth floor, our graduate students stay busy checking manuscripts and ordering images for Volume 5, Cartography in the Nineteenth Century, which will complete the series. They ensure that the volume is precise, reliable, and well illustrated. Other staff are meticulous with research and editorial preparation. We're well underway, but Volume 5 is massive: about one million words, 408 entries (34 authors), and 1,000 illustrations! Our current goal is to enter production in three years, publish after two more, and bring this 40-year Project to a bittersweet end.
GIS Professional Programs (GISPP)
GIS Professional Programs at UW–Madison offers GIS newbies and experts multiple entry points into a new or enhanced career. Our stackable programs are both online and in-person.
This semester we would like to welcome eight new, in-person Accelerated MS students, nine new online MS students, five new GIS Fundamentals Capstone students, and three new Advanced GIS Capstone students.
Not familiar with our programs? Below is an outline of what we offer! This information and more is also available on our website at geography.wisc.edu/gis/.
MS-CARTOGRAPHY & GIS: GIS DEVELOPMENT (100% ONLINE; NON-THESIS)
Learn programming, software development and web map scripting in this MS ideal for those who studied GIS before the growth of GIS software development and online map programming.
MS-CARTOGRAPHY & GIS: ACCELERATED/ NON THESIS (ON-CAMPUS)
Go from novice to expert in this program that offers software development skills and teaches tools to solve real-world spatial problems.
ONLINE CAPSTONE CERTIFICATE-GIS FUNDAMENTALS
Learn cartography, spatial analysis, GIS programming and technological skills. Credits earned stack into MS programs.ONLINE CAPSTONE CERTIFICATE-ADVANCED GIS
Learn how to create GIS tools, solve big data and spatial analyses and build interactive, mobile visualizations. Credits earned stack into MS programs.