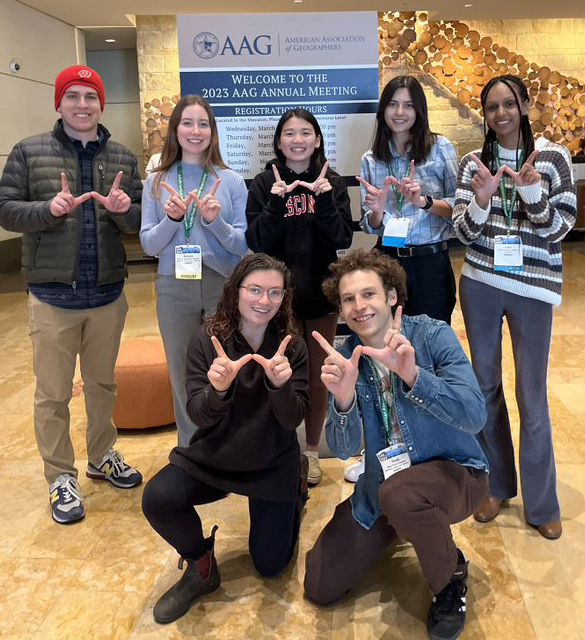 The American Association of Geographers (AAG) held its annual conference from March 23-27, 2023 in Denver, Colorado (with a virtual option, as well). The meeting draws in nearly 10,000 people each year, and many UW-Madison Geography students, faculty, and staff regularly participate. Both graduate and undergraduate students find value in attending and participating in presentations, panel discussions, and other events. Read on to see the impressive list of graduate student sessions and to learn more about undergraduate student experiences at the conference.
Graduate Student Highlights:
UW Geography graduate students participated in a wide variety of individual paper presentations, panel discussions, and poster sessions. Many of these activities involved students in leadership roles with session chair or organizer responsibilities. Congratulations to all for a successful conference!
Alicia Barceinas Cruz: "Borders for Whom? (in)Security and (im)Mobility in the Selva Lacandona"
Session title: Futile Borders II: Why Borders Fail and How Borders Function in the Incomplete Project of Settler Colonialism
Erin Clancy: "Follia Senza Genio: dreaming mad archival encounters"
Session title: Critical Visual Methodologies 2
-AND-
"Critical crip reflections on power, identity and relations/spaces of care" (panelist)
Panel title: Disabled in the Field: Challenges and Strategies
Lauren Gerlowski: "A Teaching Assistant's Reflections & Lessons from Covid-19"
Session title: AAG Council Award for Best Student Papers at Regional Division
-AND-
"Assessing the Effectiveness of our Teaching 1: Whether, how, and why we do it" (panelist)
Hannah Kass: "Food anarchy and the State monopoly on hunger"
Session title: Critical Interdisciplinarities in Food Studies
Luke Leavitt: "Sounding Space and Place I and II" (organizer)
-AND-
"Sounding Space and Place Panel" (panelist)
C Nelson & Jalessa Bryant: "The University as a Site of Control: A Call for Onto-Epistemic Openness"
Session title: Land and the University 3: Reimagining Labor, Care, & Justice
Amani Ponnaganti: "Fluid empire: Race, place, and power in the making of the Houston Ship Channel"
Session title: Racial formations, (anti)racism, and urban change 3 – 'Infrastructure and racialization'
Vignesh Ramachandran: "Delivery work and abolition geographies in the platform economy"
Session title: Feminist Labour Geographies and the Platform Economy 1
Becky Rose: "Keeping Cool and Saving Lives: Evaluating Urban Climate Plans on Heat Preparedness"
Session title: Hazards, Risks, and Disasters Specialty Group: Heat Risks
Sahil Sasidharan: "Rights as the pharmakon: Right to have real property rights in Delhi"
Session title: Urban Democracy and the "Right to the City"
Markia Silveman- Rodríguez: "Towards a Queer Understanding of Environmental Racism: An Exploration of LGBTQ+ BIPOC Experiences of Environmental (In)justice in Milwaukee Wisconsin"
Session title: Environmental Challenges Facing the Great Lakes Region
-AND-
"Queer and Trans Ecologies Panel" (panelist)
Meiliu Wu: "Estimating experienced racial-ethnic segregation based on social media data: A case study in Los Angeles-Long Beach-Anaheim"
Session title: GISS-SG Student Honors Paper Competition I
-AND-
"AAG 2023 Symposium on Harnessing the Geospatial Data Revolution for Sustainability Solutions: Multimodal Learning with Geospatial Big Data" (session chair) | "Symposium on Human Dynamics Research: Exploring Social Inequality and Segregation with Geospatial Big Data" (session chair)
Undergraduate Student Highlights
Seven UW-Madison Geography undergraduates traveled to Colorado for the AAG meeting, and several students shared some of the highlights of attending and why it was meaningful:
Ben Cramer (Junior, majoring in Human Geography and Cart/GIS): "I really enjoyed my trip out to Denver for the 2023 AAG conference! I am studying human geography and geographic information systems, so I was particularly drawn to panels focused on urban regions and the future of sustainable development. It was wonderful to get to hear from so many presenters who shared their experiences and research. Being surrounded by geographers in such a large and collaborative environment was energizing and I hope the club can enjoy this experience for years to come! Thank you again to everyone who helped us make this happen!"
Katherine Koehler (Senior, majoring in Geography and Spanish): "I had a great time at AAG and I recommend to any interested undergrads! I decided to attend because I had never been to a conference before and wanted to know what they are like. I ended up learning a lot about the different kinds of research going on in the Geography field, from cartographic design to tree root measurement in cities. My favorite part of the conference was getting to attend such a broad range of presentations that discussed topics I would never know about otherwise, as well as getting to know other Geography undergrads from UW-Madison."
Hans Purish (Senior, majoring in Human Geography): "The AAG was my first academic conference, and I learned so much about the discipline of geography. For me, the highlight of the conference was seeing Dr. Cindi Katz give the Antipode keynote address about her concepts of counter-topographies and topographies of hope. Attending different panels really helped me understand what kind of research human geographers are doing, and what kind of research I want to do in graduate school and beyond. I made amazing connections with scholars who I have long admired, and I know that this opportunity will go on to shape the trajectory of my academic career! Thank you to everyone who made attending the conference possible!"