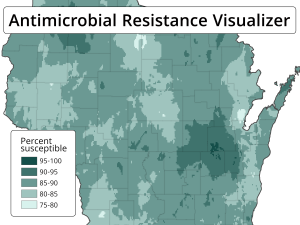 For many years public health officials have collected data on the resistance that infectious microbes have to antibiotics. Resistance patterns change from year to year and vary by location. This makes it difficult for physicians to select the best antibiotic to treat an infection.
To remedy this problem, researchers at the UW–Madison School of Pharmacy and State Cartographer's Office are mapping antibiotic resistance data across Wisconsin. By creating maps that show where resistance to particular antibiotics is highest, the researchers will be able to give physicians the tools they need to choose the best antibiotic.
The project is described in more detail in a recent UW–Madison News post.
The project was conceived by Comparative Health Systems Global Pharmacy Fellow Laurel Legenza and School of Pharmacy associate professors Warren Rose and Susanne Barnett. Legenza — along with Rose, Barnett, and Associate State Cartographer Jim Lacy — developed the idea to put together the information in a cartographic format. Legenza and Natalee Desotell, a UW-Madison GIS Certificate Student, created the first interactive Wisconsin antibiotic resistance visualizations, and obtained funding for the project through the Office of the Vice Chancellor for Research and Graduate Education.
The project will have benefits for the state's citizens by helping ensure the most effective treatment of microbial infections.
The project will also provide practical experience in a real-world application of GIS and mapping to students in the State Cartographer's Office (www.sco.wisc.edu), which is housed in the UW–Madison Department of Geography. State Cartographer's Office student assistant Andrea Eibergen — a triple major in Geography, GIS/Cartography, and Environmental Studies at UW-Madison — is currently developing map prototypes for the project.
The project is expected to continue through the summer of 2019.