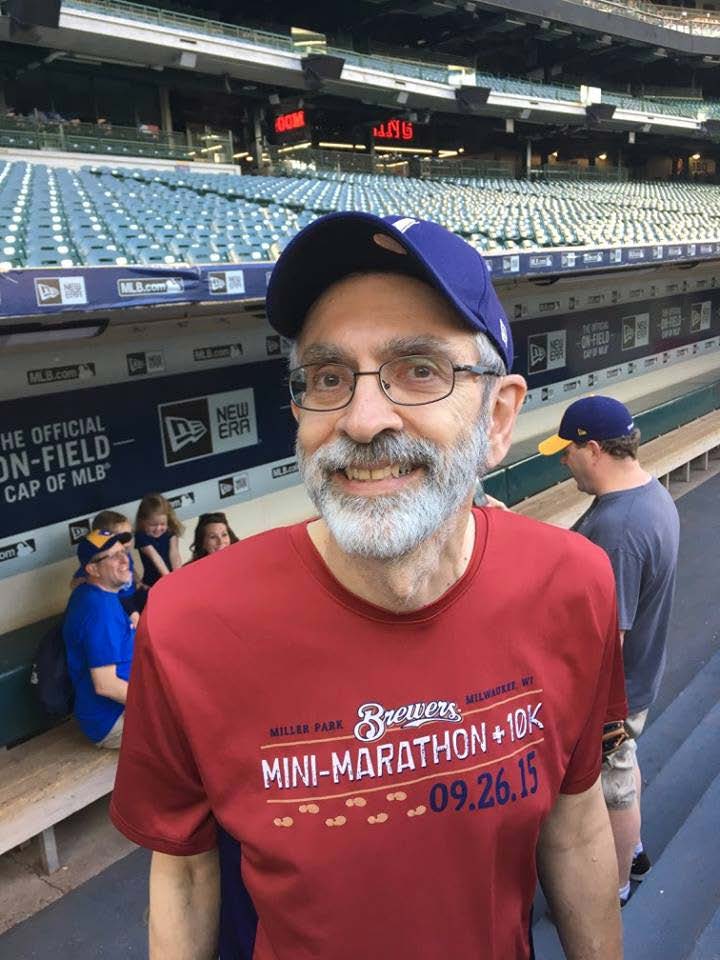 This week's staff profile is of Tom Tews, the Geography Librarian who has been with us in Science Hall since 1984. Tom shares about his career path, the rewards and challenges of his role, recent changes to the Geography Library and its collection, and his love of Milwaukee Brewers baseball. Read our conversation below!
What is your role in the Geography Department?
I have always been under the budget line of the General Library System (Campus Libraries) rather than the Geography Department. I was assigned to the run/direct/be the head of the Geography Library since 1999; from 1984-1999 I was assistant to the head.
So, currently I am still the campus' Geography Librarian. That means that I collect/buy/curate materials for campus libraries in the broadly defined subject category of Geography. I consult and help with any Geography community members about library questions, library instruction, library research and just about anything else library related.
Also, some years ago I agreed to volunteer as facility/building manager. I help with any facility issues like water leaks and HVAC problems. I have a large set of keys to help building occupants and Facilities staff with security issues, special events, building use requests, and the like.
 What type of work did you do before you joined the department?
After getting a bachelor's degree in Geography and Teacher Education from UW Stevens Point, I didn't find any suitable teaching positions and did small jobs in retail, fast food, delivery service before being offered a paraprofessional position here at UW Madison for the campus Libraries and stationed over at Memorial Library. It was less than a year that I was able to get promoted/transferred over to the Geography Library in 1984.
 Could you describe the recent changes to the Geography Library and the future of its collection?
The Geography Library permanently closed at the end of the Fall 2017 semester. The physical print collections are being dispersed to other campus library locations (Memorial Library, Steenbock Library, Geology Library, Verona Shelving Facility). The spaces will be repurposed for use by the Geography Department and the Nelson Institute.
What are some of the challenges of your role?
Currently, actually just seeing other Geography or Science Hall community people. I'm not in the most visible space and the doors are closed for the most part. So, partly I'm hoping that if people have library needs or questions that they'll take that extra step and find me, call me, email me etc. Another challenge right now is finding a niche in the campus library world where I might fit in, do well, have an interest in and enjoy.
What benefits do you draw from the Science Hall community of students, faculty, and staff that you wouldn't have elsewhere?
Over the years, the best part of being in Science Hall is having personal connections to faculty, staff and most of all students. Providing public service for people you see all the time is most enjoyable.
 Does your work extend beyond Science Hall to engage the broader Madison community?
Most of my work that extends past Science Hall is to help provide quality library services to the UW Madison community. I do a little work now over at College Library and the future me might include more time with them, but also I'm hoping to find some library work that is more of a campus wide service that isn't tied to a particular place.
What are some of your favorite hobbies outside of work?
Milwaukee Brewers baseball, running, reading, playing with my cats.