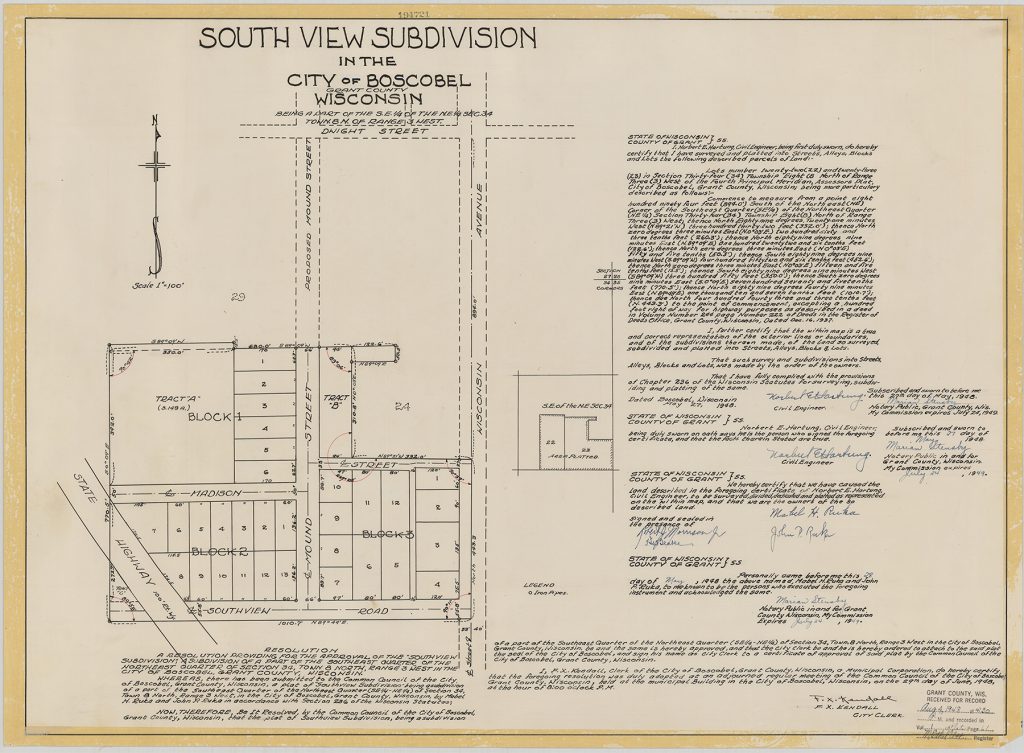 The Robinson Map Library, a unit of the UW-Madison Department of Geography, is partnering with Grant County to digitally preserve a collection of historic maps and documents held in the County's Register of Deeds Office. Chris Colney—Grant County's Land Information Officer—initiated the collaboration with the Map Library, where similar map scanning projects with the Wisconsin Department of Public Instruction and the UW's Allen Centennial Gardens have commenced in recent years.
The goals of the project are (1) to preserve important information found on physically degrading printed material, (2) to create efficiencies in discovery and use of the information for county staff, and (3) provide service learning opportunities for students employed at the Map Library.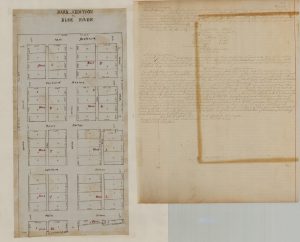 The Grant County collection contains over 1,000 documents comprised of plats, maps, and descriptions of cities, villages, and settlements that flourished and then floundered out of existence, as well as communities that have never been realized. Remarkably, some of the descriptions created in the 1800s are still being used in legal descriptions for properties today. Use of the documents varies; title insurance companies, realtors, and attorneys reference the maps in their lines of work daily. Property transfers, ownership/boundary disputes, and property valuations may all have their basis in these documents. County-use of these documents is just as varied; taxation, representation, resource allocation, and other services provided all stem from a property's physical location and, these maps provide tactile evidence of a property's location.
Chris Colney sees digitization as an important first step in saving the data on these maps: "Of course, as we move ever closer to completely digital realm, these maps must move with us. By preserving these maps digitally, we are not only building accuracy in parcel mapping and other facets of land information, but we're also ensuring a lasting digital archive of the history of Grant County and keeping the struggles, triumphs, and stories of Grant County alive."
A digital archive ensures that records of these documents are preserved should the original be destroyed. In addition to the preservation of records, county workflows will no longer be inclusive of 'commute time' where employees move back and forth between offices looking for documents stored in several locations. Instead, once the maps are digitized, all the information needed will be easy to find by clicking a button.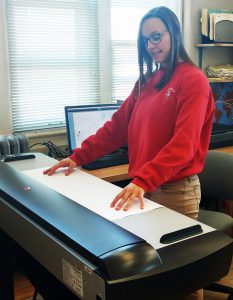 Jaime Martindale, Map and Geospatial Data Librarian, is managing the project in the Robinson Map Library, where student assistants have been scanning delicate maps, tracking the collection inventory in a database, and producing both color archival images and black and white derivatives.  The project funding from Grant County directly supports the students who are gaining valuable experience in planning and executing a digital preservation project and working carefully with fragile materials. Some of their work includes conservation practices to repair damage and encapsulating documents in mylar sleeves prior to scanning.
Chris Colney also spoke about the value of a partnership with UW-Madison: "Working with the University was seen initially as a way to alleviate some workload on county staff who just do not have the time to take on a project like this. However, after working with Jaime, her staff within the Robinson Map Library, and others within the Geography Department, it has become apparent that the benefits are worth more than any financial savings. Looking at this partnership through the lens of preservation, the University is developing students whose archiving and preservation skills and thoughtfulness is ensuring that, although they may not last forever, these unique documents stand a chance at surviving another 180 years. Throughout the development and execution of this project, the steadfast commitment to the Wisconsin Idea has been remarkable. The students, staff, and faculty of the Robinson Map Library, the Department of Geography, and the College of Letters and Science have demonstrated that the Idea is central to their work and that is not something you can get out of just any contract."
The project will be completed by the end of the 2018-19 academic year.