Christian Andresen
Position title: Assistant Professor
Email: candresen@wisc.edu
Phone: (608) 890-3792
Address:
222 Science Hall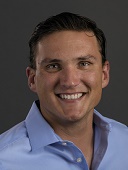 EDUCATION
2015-2018 Postdoctoral Research Associate, Los Alamos National Laboratory
2014 Ph. D. Environmental Science and Engineering, University of Texas at El Paso
2008 B. S. Environmental Science, University of Texas at El Paso
INTERESTS
Arctic Ecosystems, Remote Sensing, Surface Hydrology, Wetlands, Environmental Change, Carbon Cycling, Geospatial Analytics, LiDAR, Photogrammetry, Unmanned Aerial Systems (Drones)
RESEARCH AREAS
I am interested in the understanding of Arctic hydrology, ecology and associated land-atmosphere carbon dynamics under the effects of climate change. This includes the evolution of surface hydrology under climate change, interactions with biogeochemical processes and how these relationships influence higher-level environmental patterns and processes. My research is highly inter-disciplinary and combines rigorous, process-based approaches from different fields including hydrology, biogeochemistry, ecology and geomorphology. I use a combination of in-situ sampling methods, multi-scale remote sensing and earth system models to pinpoint and evaluate the mechanistic links between climate, hydrology and carbon exchange in the Arctic.
Coupled to my aforementioned work, I have been developing and testing novel platforms and remote sensing capabilities including phenocams, kite aerial photography and Unmanned Aerial Systems (UAS, aka Drones) equipped with LiDAR, hyperspectral imaging and photogrammetry with applications to a gamut of environmental studies. These applications have been the technological backbone for my research and I envision continuing the development and testing of novel systems for environmental applications.
COURSES TAUGHT
GEOG 324 – Polar Regions and Their Importance in the Global System
GEOG 120 – Intro to the Eath System
Geospatial Technologies for the Sciences
AFFILIATIONS
UW Center for Climatic Research
UW Water
RECENT PUBLICATIONS
Andresen C. G., Lawrence, D. M., Wilson, C. J., McGuire, A.D., Jafarov, E., Schaefer, K., Chen, G., Hayes, D., Zhang, W, Chen, X., Gouttevin, I., Burke, E., Chadburn, S., Ji, D., Koven, C. (in review). Projected Arctic drying from permafrost thaw is uncertain. Nature communications.
Andresen C. G., Tweedie C. E., Lougheed V. L. (2018). Climate and nutrients effects on Arctic aquatic plant phenology using phenocams. Remote Sensing of Environment. Doi: 10.1016/j.rse.2017.11.013
Andresen C. G. Lara M. J., Tweedie, C. E., Lougheed, V. L. (2017). Rising Plant-mediated Methane Emissions from Arctic Wetlands. Global Change Biology. doi: 10.1111/gcb.13469.
Featured in: EOS magazine (https://eos.org/articles/aquatic-plants-may-accelerate-arctic-methane-emissions)
Muster, S., Roth, K., Langer, M., Lange, S., Cresto, F., Bartsch, A., Morgenstern, A., Grosse, G., Jones, B., Sannel, A. B. K., Sjöberg, Y., Günther, F., Andresen, C. G., Veremeeva, A., Lindgren, P. R., Bouchard, F., Lara, M. J., Fortier, D., Charbonneau, S., Virtanen, T. A., Hugelius, G., Palmtag, J., Siewert, M. B., Riley, W. J., Koven, C. D., and Boike, J. (2017). PeRL : A Circum-Arctic Permafrost Region Pond and Lake Database. Earth Syst. Sci. Data Discuss., doi:10.5194/essd-2016-56.
Lara, M. J., Johnson D. R., Villarreal, S., Andresen C. G., Tweedie C.E. (2017). Peak season carbon exchange shifts from a sink to a source following 50+ years of herbivore exclusion in an Arctic tundra ecosystem. Journal of Ecology 2017, 105, 122–131 doi: 10.1111/1365-2745.12654.
Andresen C. G. and Lougheed, V. L. (2015). Disappearing Arctic tundra ponds: Long-term (1948-2013) fine-scale analysis of surface hydrology in drained thaw lake basins over a 65 year period (1948-2013). Journal of Geophysical Research Biogeosciences, doi: 10.1002/2014JG002778.
Featured in: Science Magazine News (http://www.sciencemag.org/news/2015/03/alaska-s-ponds-are-disappearing)
AGU News (http://news.agu.org/press-release/ponds-are-disappearing-in-the-arctic-new-study-finds/)
UTEP News (http://news.utep.edu/researcher-studies-how-climate-change-is-affecting-arctic-ponds/)
Lougheed V. L., Hernandez, C., Andresen C. G., Miller, N. A., Alexander, V., Prentki, R. (2015) Contrasting responses of phytoplankton and benthic algae to recent nutrient enrichment in Arctic tundra ponds. Freshwater Biology. 60:10, 2169-2186.
Andresen C. G. Vargas S. A., Lougheed, V. L., Tweedie, C. E. (2014) Kite-based Aerial Photography: A low cost, effective tool for wetland research. Wetland Science and Practice 32:15-19
Lin D. H., Johnson, D. R., Andresen C. G., Tweedie C.E. (2012) High-spatial resolution decade-time scale land cover change at multiple locations in the Beringian Arctic (1948 – 2000s). Environmental Research Letters 7 025502.