Erin Clancy
Position title: Ph.D.
Email: eclancy2@wisc.edu
Address:
Pronouns: they/them
Advisor: Sarah Moore, Keith Woodward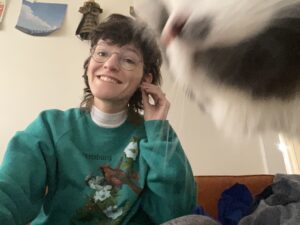 EDUCATION
M.A. in Human Geography, University of Kentucky
B.A. in History of Art & Architecture and English; Minor in Italian
RESEARCH AREAS
Feminist Health Geographies, Disability Studies, Queer Geographies, Eating Disorders, emotion/affect, deinstitutionalization, Italian
RECENT PUBLICATIONS
Clancy, Erin. "'I Feel Fat When I Feel Fat': Affective Forces of Trauma in Anorexia and Bulimia." Gender, Place & Culture 29, no. 3 (March 4, 2022): 303–22. https://doi.org/10.1080/0966369X.2021.1873741.
COURSES TAUGHT
Geography 475: Geographies of Mental 'Illness' and Health. Click for the syllabus here.