Justin Cole
Credentials: Faculty Associate, GISPP Instructor
Email: jdcole2@wisc.edu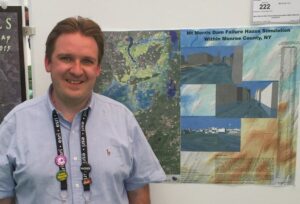 Justin Cole comes from a strong career of almost 15 years in local government, private consulting, and academia.  In local government he was key in utilizing GIS in all aspects of government operation from emergency management, water/waste water operations, elections, 911, health, and economic development.  In the private sector, he created GIS solutions to fit clients' needs in areas of asset management, emergency planning, environmental modeling, and economic development.
Justin is proficient in ESRI software and has knowledge of many other GIS platforms including QGIS, GRASS, and IDRISI.  He is constantly exploring new tools and new applications for GIS, including recently getting his remote pilot certification.
Education
BS and MS in Environmental Science from Rochester Institute of Technology 2007.
Research Areas
Justin's master's thesis sparked a lifelong desire to better understand the Great Lakes' impact on the local landscape.  He has looked at issues ranging from management plans, wetlands, storm impact, and erosion.  He always is trying to find new tools, analysis, and datasets to better understand the system.  Currently, he is looking at uses for UAV's along the lake shore.
Selected Publications and Presentations
A Landsat Look at the Impact of the Lake Ontario High Water Levels GIS/SIG Conference April 2018
Leveraging Survey123 to Power Reporting in Microsoft Word GIS/SIG February 2018 Program
WebGIS Data Collection – When to use Collector, Survey123, or Web Apps to capture
information NYSGIS Association Webinar December 2017
Guiderail Inventory Mapping; From Paper to GIS ESRI International User Conference, San Diego, CA (July 2017)
Mt. Morris Dam Failure Hazus Simulation Within Monroe County, NY poster presentation at ESRI International User Conference, San Diego, CA (July 2015) Published in the ESRI Mapbook Volume 31 http://bit.ly/JDC_Mapbook2016 .
The Light at the End of Surveyor's Tunnel: Lidar Helps Monroe County in a Variety of Ways, Published in Geoworld magazine (January 2012) http://bit.ly/JDC_GeoWorld .