Alicia Cowart
Position title: Creative Director | UW Cartography Lab
Pronouns: she/her
Email: adcowart@wisc.edu
Address:
Department of Geography
550 N Park St
Madison WI 53706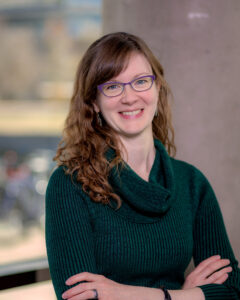 Education:
Ph.D., Geography, University of California, Berkeley, 2014
B.A., Art History & Anthropology, Oglethorpe University, 2002
About:
Alicia Cowart is a cartographer and geographer with broad experience teaching and mentoring students in higher education. Prior to her current role as Creative Director of the UW Cartography Lab, she spent three years establishing and directing the Geospatial Analysis and Mapping Laboratory at the University of Colorado Denver, where she also taught graduate and undergraduate courses in GIS and Cartography. Previously, she was the Staff Cartographer and Cartography Lecturer in the Department of Geography at the University of California, Berkeley (UC Berkeley) and a Council on Library and Information Resources (CLIR) Fellow in geospatial data services at the University of Colorado Boulder libraries. In all of these roles, she developed and taught Cartography and GIS courses and workshops, with previous experience teaching primarily Physical Geography courses in two Bay Area community colleges and at UC Berkeley. She has also been actively involved in creative projects with Guerrilla Cartography, a nonprofit organization that promotes the cartographic arts through publishing crowdsourced atlases and hosting map-making events.