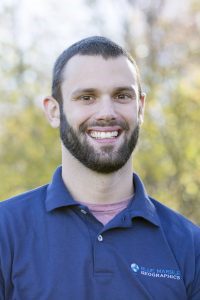 About me:
I am a Senior Application Specialist at Blue Marble Geographics, in Maine. I have been at Blue Marble since completing my Cart/GIS MS, working for Professor A-Xing Zhu in the Department of Geography. It has been amazing to experience the GIS world from a brand new perspective, industry! Being able to see how the GIS theories and concepts we teach at UW-Madison are applied to real-world everyday issues is such a rewarding experience. In my free time, I am an avid runner and I love backpacking. I am hoping to run a race in every state and backpack every National Park!
Education:
MS – Cartography and GIS, Department of Geography, University of Wisconsin-Madison
BS – Environmental Science, Department of Environmental Studies and Sciences, Ithaca College
Research and Interests:
My masters thesis focused on studying the spatial relationships between landscape and environmental variables on genetic variation in mice. Much of my undergraduate research similarly focused on spatial patterns in natural ecosystems, be it juvenile muskrat or the American Chestnut tree. I find it endlessly fascinating how studying natural phenomena from a spatial perspective allows us to glean new information and knowledge.