Jenna M. Loyd
Position title: Associate Professor
Email: jmloyd@wisc.edu
Address:
Pronoun(s): she/they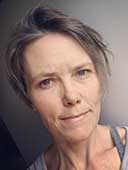 WEBSITE
EDUCATION
Postdoctoral Fellow, Department of Geography, Syracuse University
Postdoctoral Fellow, Center for Place, Culture, and Politics, The CUNY Graduate Center
Faculty Fellow in the Humanities, Humanities Center, Syracuse University
Ph.D., Department of Geography, University of California, Berkeley
INTERESTS
Feminist geography; Racism and anti-racism; Violence and health; Migration detention and deterrence; Carceral and abolition geographies; Geopolitics of asylum and refugee resettlement
RESEARCH AREAS
I am a feminist geographer whose work focuses on racism and state violence. One thread of my research focuses on health and the social production of health inequities. This focus can be seen in Health Rights Are Civil Rights on US-based health activism and more recent research and teaching on how health concepts and practices intersect with international migration governance. A second main thread of research focuses on theorizing the content and scope of the US carceral state, evident with Beyond Walls and Cages and Boats, Borders, and Bases. Much of my work has examined migration detention and deterrence as interrelated parts of the criminal legal system, work which has implications for movements migrant and racial justice.
CURRENT RESEARCH
I am part of two research collaborations. The Geopolitics of Trauma project with Patricia Ehrkamp (University of Kentucky) and Anna Secor (Durham University) is a multi-year investigation funded by the NSF into how trauma, as a concept and set of practices, is mobilized in the refugee resettlement process. When we began the project, we set out to understand how trauma practices rework geopolitical relationships between the US and Iraq. We have increasingly focused on documenting significant shifts in US refugee resettlement.
My other current collaboration is a community-engaged video and mapping project on policing and meanings of justice in Milwaukee with Anne Bonds (University of Wisconsin-Milwaukee), documentary filmmaker Jenny Plevin, and Robert Roth in this department. Through this project we explore processes for creating new visual narratives and the implications these have for theorizing urban space and just geographies.
COURSES TAUGHT
Feminist Political Geography
Feminist Research Methods
International Migration, Health, and Human Rights
Introduction to the City
RECENT PUBLICATIONS
Books
Loyd, Jenna M., Mitchelson, Matt, and Andrew Burridge, eds. 2012.Boats, Borders, and Bases: Race, the Cold War, and the Rise of Immigration Detention in the United States.University of California Press.
Loyd, Jenna M. 2014.Health Rights Are Civil Rights: Peace and Justice Activism in Los Angeles, 1963-1978 Minneapolis: University of Minnesota Press.
Loyd, Jenna M., Mitchelson, Matt, and Andrew Burridge, eds. 2012. Beyond Walls and Cages: Prisons, Borders, and Global Crisis Athens, GA: University of Georgia Press.
Recent peer reviewed articles
Loyd, Jenna M. and Anne Bonds. 2018. "Where Do Black Lives Matter?: Race, Stigma, and Place in Milwaukee, Wisconsin." The Sociological Review. doi.org/10.1177/0038026118778175.
Loyd, Jenna M., Ehrkamp, Patricia, and Anna Secor. "A Geopolitics of Trauma: Refugee Administration and Protracted Uncertainty in Turkey." Transactions of the Institute of British Geographers. DOI: 10.1111/tran.12234.
Loyd, Jenna M., Mitchell-Eaton, Emily, and Alison Mountz. "The Militarization of Islands and Migration: Tracing Human Mobility through US Bases in the Caribbean and the Pacific." Political Geography. doi: 10.1016/j.polgeo.2015.11.006.
Loyd, Jenna M. 2015. "Carceral Citizenship in an Age of Global Apartheid." Occasion. 8: 1-15. http://stanford.io/2dPhnmp.
Mountz, Alison, Bonds, Anne, Mansfield, Becky, Loyd, Jenna, Hyndman, Jennifer, Walton-Roberts, Margaret, Basu, Ranu, Whitson, Rina, Hawkins, Roberta, Hamilton, Trina, Curran, Winifred. 2015. "For Slow Scholarship: A Feminist Politics of Resistance through Collective Action in the Neoliberal University." ACME 14(4): 1235-1259. http://bit.ly/2du8Fth.
AWARDS AND HONORS
Past President Book Gold Award, Association for Borderlands Studies, for Beyond Walls and Cages, 2014