Vignesh Ramachandran
Position title: M.S./Ph.D.
Email: vramachandr9@wisc.edu
Address:
Pronoun(s): he/him/his
Advisor: Keith Woodward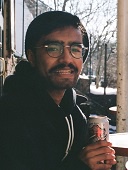 EDUCATION
B.A. in International / Global Studies – Middle East, Middlebury College
RESEARCH AREAS
Asian American studies, War on Terror, affect, social movements, policing, abolition geographies
RECENT PUBLICATIONS
Peer Reviewed
(forthcoming, under review) Ramachandran, V., J. Raihan, and A. Singh. "Under Attack from the State and in Our Homes: Materialist Interventions and Lessons in Abolition Feminisms from Desis Rising Up & Moving." Frontiers: A Journal of Women's Studies.
Book Reviews
Ramachandran, V. and N. Hasan. 2020. "An Abolition Politics for the Climate Crisis: Out of the Woods' Hope Against Hope." The Trouble. https://www.the-trouble.com/content/2020/12/16/an-abolition-politics-for-the-climate-crisis-out-of-the-woods-hope-against-hope