Paul Robbins
Position title: Professor & Director, Nelson Institute for Environmental Studies
Email: director@nelson.wisc.edu
Phone: (608) 265-5296
Address:
122 Science Hall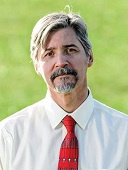 Website
http://faculty.nelson.wisc.edu/robbins
Interests
Biodiversity; conservation; political economy; anthropogenic environments; India
EDUCATION
PhD, Clark University, 1996
<h2CURRENT RESEARCH
1) Biodiversity in agrofoestry plantations in Karnataka, India
2) Afforestation, colonialism, and contemporary forest policy
3) Political Demography
4) Conservation science, anxiety, and psychoanalytic interpretation
RECENT PUBLICATIONS
Niki vonHedemann, Paul Robbins, Mindy Butterworth, Katheryn Landau, and Cory Morin. 2016. "Managing mosquito spaces: citizen self-governance of disease vectors in a desert landscape" Heath and Place.
Karanth, K. K., V. Sankararaman, S. Dalvi, A. Srivathsa, R. Parameshwaran, S. Sharma, P. Robbins, and A. Chhatre. 2016. Producing diversity: Agroforests Sustain Avian Richness and Abundance in India's Western Ghats. Frontiers in Ecology and Evolution.
Robbins, P. and S. Smith. 2016. "Baby Bust: Towards Political Demography" Progress in Human Geography.
Robbins, P., A. Chhatre and K. Karanth. 2015. "Political ecology of commodity agroforests and tropical biodiversity" Conservation Letters. 8(2): 77–85.