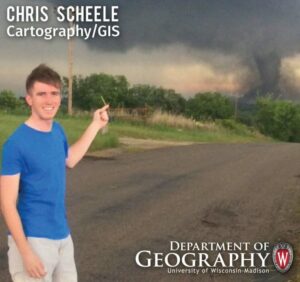 About
Chris Scheele first discovered the world of GIS as an undergraduate interning for NASA as part of their Student Airborne Research Program. He has built up a wide range of geospatial experience in his career so far from remote sensing to big data geoanalytics. As a graduate student Chris worked at the Wisconsin State Cartographer's Office helping with a variety of state and local government projects. He currently works in analytics for a telematics company.
Chris specializes in large scale geospatial data processing and modeling. He enjoys using open source big data tools (e.g., Hadoop, Spark, Flink, Kafka…) to solve complex spatial data problems.
Education
BS Atmospheric and Oceanic Sciences, University of Wisconsin-Madison 2014
Capstone Certificate in GIS, University of Wisconsin-Madison 2015
MS Cartography and GIS, University of Wisconsin-Madison 2017
Research Areas
In graduate school while working with advisor Qunying Huang Chris focused his research on big spatial data analytics for disaster events. He continues to do similar work in the private sector.
Selected Publications and Presentations
Land Surface Temperature Retrieval Through the Synthesis of Hyperspectral and Multispectral Data from the HyspIRI Preparatory Flight Campaign, AGU Fall Conference December 2013
Grigsby S., Hulley G., Roberts D., Scheele C., Ustin S., Alsina S., 2015. Improved surface temperature estimates with MASTER/AVIRIS sensor fusion. Remote Sensing of Environment. DOI: 10.1016/j.rse.2015.05.019
Rasdaman for Big Spatial Raster Data, AGU Fall Conference December 2015
Yu M., Huang Q., Qin H., Scheele C., Yang C., 2019. Deep learning for real-time social media text classification for situation awareness–using Hurricanes Sandy, Harvey, and Irma as case studies. International Journal of Digital Earth. DOI: 10.1080/17538947.2019.1574316