Sarah Tolbert
Position title: Ph.D.
Email: stolbert2@wisc.edu
Address:
Pronoun(s): she/her/hers
Advisor: Lisa Naughton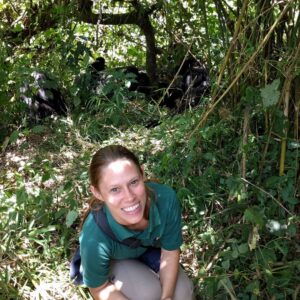 EDUCATION
M.E.M+ M.A,Global Affairs, Yale School of Environment and Jackson School of Global Affairs 2016
           Thesis: "Traditional Environmental Knowledge, Community Forestry, and Conservation in the eastern Democratic Republic of the Congo"
BA, Political Science and Environmental Studies, Case Western Reserve University, 2009
RESEARCH INTERESTS
Political ecology, forest governance, wildlife and forest conservation, community conservation, participatory action research methodology, Central Africa
GRANTS AND AWARDS
African Studies Program Research Award, University of Wisconsin Madison, 2022
The Scott Kloeck-Jenson (SKJ) Fellowship Program, University of Wisconsin Madison, 2022
Foreign Language Area Studies Fellow, Kiswahili, University of Wisconsin Madison African Studies, 2020-2022
University Fellowship, University of Wisconsin MadisoN
National Science Foundation Graduate Research Fellow, 2020-2025
Fulbright Scholarship, United States State Department, DRC, 2016-2017
Gruber Fellowship for Women's Rights and Social Justice, Yale Law School, 2016-2017
RECENT PUBLICATIONS
A Partnership to Build Scientific Capacity of Rwanda's Future Conservationists: The Memoirs Program. American Journal of Primatology: October 2020. Eckardt, W., Tuyisingize, D., van der Hoek, Y., Tolbert, S., Stoinski, T.S., Ndagijimana, F., Kaplin, B.A., Mudakikwa, A. and Lukas, K.
Local Perceptions of Protected Areas in the Virunga-Bwindi Massif. Environmental Conservation: February 2019. Tolbert,S., Makambo,M., Asuma,S., Musem A. & Mugabukomeye,B.