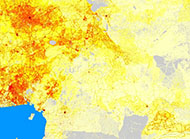 Have a technical GIS question? Email the UW GISHelp List
Find out about GIS services, resources, & events at UW-Madison: UW Geospatial Alliance
GIS Services at the Robinson Map Library
While most geospatial data requests arrive at the library via the GIS Data Request Form, we can also accommodate in-person appointments for more in-depth research questions regarding the best sources of geospatial data needed for courses or projects. Contact Map & Geospatial Data Librarian Jaime Martindale to inquire about a geospatial data consultation.
We generally support:
Basic understanding of geospatial data types and formats
Where to find reliable sources of geospatial data
To make an appointment for geospatial data assistance, contact Jaime Martindale:
Email: jmartindale@wisc.edu
Phone: (608) 262-1471
GIS Support and Training on the UW-Madison campus
The Map Library provides initial consultation for GIS projects and introduction to ArcGIS software. Any further requests for support or assistance in making maps or performing detailed analysis can be provided elsewhere on campus. Students seeking detailed assistance or in-depth project consultation are advised to consider formal training. Visit the SIAC website for a complete listing of courses!
The Land Information and Computer Graphics Facility offers ArcGIS and other ESRI-Authorized training courses. They can also provide students with access to the ESRI Virtual Campus online training modules.
Contact Math Heinzel for access to these online courses.
The UW Geography Department offers an introductory GIS course: Geography 377: Introduction to GIS
The UW Geography Department offers an advanced GIS course: Geography 578: GIS Applications
The UW Urban and Regional Planning Department offers the course: Applications of GIS in Planning
The UW Department of Landscape Architecture offers the course: Applications of GIS in Natural Resources
Software in the Map Library: ArcGIS 10.4
There are six public GIS workstations available for browsing geospatial data and/or using GIS software.
UW-Madison faculty, staff and student ArcGIS license information is available from:
Land Information and Computer Graphics Facility
550 Babcock Drive, Rm B102
Madison, WI 53706
Phone: (608) 263-5534