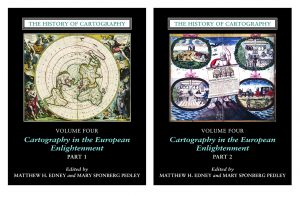 Our most recent publication, Cartography in the European Enlightenment, Volume Four of The History of Cartography, was published in 2019.
Edited by Matthew H. Edney and Mary Sponberg Pedley, this volume presents 1,651 pages of detailed entries and beautiful illustrations. We have worked with contributors from around the world in order to bring you this comprehensive work on the art, craft, science, and techniques of maps and mapping between 1650 and 1800.
Learn more about Volume Four and read it online!
---
In spring 2021 we hosted a series of virtual events in celebration of Volume Four.
Thank you to everyone who joined us online. We welcome you to view the event recordings and the additional items prepared by the Project in our Video Library.
Virtual Discover Series, William L. Clements Library, University of Michigan, Mary Sponberg Pedley and Matthew H. Edney
March 9: The Building Blocks for Creating an Encyclopedia (Part I)
March 16: The Minutiae behind Mapmaking (Part II)
March 23: Digitization and Cartography Research (Part III)
Presentations by Matthew H. Edney
April 15: The History of Cartography: Celebration of Volume 4, Cartography in the European Enlightenment, Chicago Map Society, with Mary Pedley
April 21: What's a Portrait Doing on this Map? Reinterpreting Captain John Smith and His Map of New England, Wednesday Nite @ The Lab, University of Wisconsin–Madison
April 23: Mapping before, and without, 'Cartography,' Yi-Fu Tuan Lecture, University of Wisconsin–Madison
---
More fun facts and information about Volume Four: