Recently, Prof. Song Gao is invited to join the Editorial Board of Transactions in GIS, which is a key international journal for publishing geographic information systems/science related research.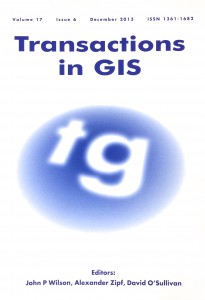 Aims and Scope
Transactions in GIS is an international, peer-reviewed journal that publishes original research articles, review articles, and short technical notes on the latest advances and best practices in the spatial sciences. The spatial sciences include all of the different ways in which geography may be used to organize, represent, store, analyze, model and visualize information. The submission of manuscripts that focus on one or more of the following topics among others – is strongly encouraged:
GIS, GPS, Remote Sensing and related geospatial technologies;
geospatial data acquisition and sensing; maps and spatial reasoning;
spatial data infrastructures; standardization and interoperability;
spatial data structures and databases; geocomputation;
spatiotemporal analysis, integration and modeling;
spatial data quality and uncertainty;
GIS education and certification; GIS and society;
location privacy;
and desktop, mobile and Web-based spatially-enabled applications and services.
Keywords
Geographic Knowledge Discovery and Data Mining; Geographic Information Retrieval; Geosensor Networks; Geosimulation; Geospatial Data Integration; Geospatial Semantic Web; Geovisualization; Geographic Information Science; Geographic Information Systems; GIS Architectures and Middleware; GIS and Society; GIS Standardization and Interoperability; GIS&T Education; Global Positioning Systems; Local, Enterprise, Mobile and Web Applications; Location-Based Services; Location Privacy, Data Sharing and Security Maps and Map Services; Ontologies and taxonomies; Public Participation; GIS Remote Sensing; Spatial Analysis; Spatial Cognition and Reasoning; Spatial Data Infrastructures; Spatial Data Quality and Uncertainty; Spatial Databases, Data Structures and Algorithms; Spatial Decision Support Systems; Spatial Dynamics; Spatial Modeling; Spatial Networks; Spatial Thinking; Spatiotemporal Analysis and Modeling; The Spatial Sciences