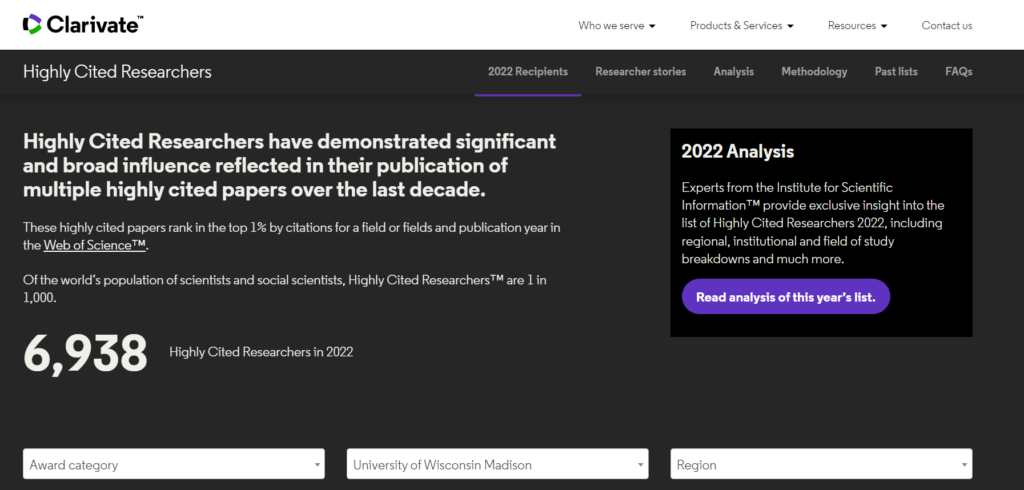 Prof. Song Gao is on this year's list of Global Highly Cited Researchers List of 2022 and the only scholar from UW-Madison listed in the category of Social Sciences. Kudos to his colleagues, students, and mentors!
On November 15 2022, Clarivate revealed its 2022 list of Highly Cited Researchers™ – individuals at universities, research institutes and commercial organizations who have demonstrated a disproportionate level of significant and broad influence in their field or fields of research. The methodology draws on data from the Web of Science™ citation index, together with analysis performed by bibliometric experts and data scientists at the Institute for Scientific Information (ISI)™ at Clarivate. ISI analysts have awarded Highly Cited Researcher 2022 designations to 6,938 researchers from across the globe who demonstrated significant influence in their chosen field or fields over the last decade. ISI analyzed all papers published and cited between 2011 and 2021, determining which authors ranked in the top 1% of cited papers in each field. The list is truly global, spanning 69 countries or regions and spread across a diverse range of research fields in the sciences and social sciences.
Prof. Gao is also on the list of top 2% highly cited scientists based on Stanford University's analysis of Scopus data provided by Elsevier.
UW-Madison Research News: https://research.wisc.edu/uncategorized/2022/11/22/uw-madison-faculty-make-strong-showing-on-global-highly-cited-researchers-list/